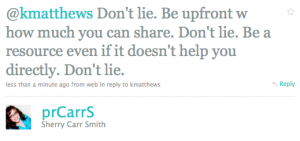 Public relations professionals are, I would argue, faced with ethical decisions every day. They might be small or they might be life or death. In this business, the "product" we have is our integrity and credibility. Doing things that breech either can damage your reputation and your ability to be effective and just do your job.
My best all-purpose advice is to develop a decision making process for yourself and to think through in advance, how you'll handle difficult situations.
One of the trickiest areas of practice for PR professionals is dealing with the media. Spin, control and manipulation can not be part of your repertoire. Period. Some specific (and basic) tips for behaving ethically in a media relations function.
Don't lie. People will find out. And in this day-and-age, they will find out more quickly and the backlash will be broader and more far reaching than ever before. You'd think that case after case of people who have been caught should teach others a lesson.
Be upfront with how much you can share. If you're not able to share certain information about a situation, be upfront about how much you can share. Legal or privacy regulations (such as HIPPA in the healthcare communications arena) will keep you from being able to share everything all the time.
Be a resource, even if you don't benefit directly. This might be more of a best practice than a tip for good ethics, but it all ties in together. If you have a relationship with the media, foster it by being a good resource and ensuring the reporters, editors or producers know that you understand what they need to do a good job.
You cannot control content (even if you don't like it, or you think it's wrong). The key benefit to getting media coverage (vs. buying an ad) is the third party credibility that it offers. The media gatekeepers get to decide how the story is covered and that doesn't always mean that you get the exact quotes or even specific information that you wanted. Get over it. Do not demand information be changed, do not throw a fit if you don't get the coverage you want. (If there's a genuine error of fact, you can request a correction, but do this only when absolutely necessary.)
Don't lie. This is important enough to mention twice. Don't do it. People will find out and they will never forgive you.
Be fair. Reporters and editors and producers and people, too. And sometimes they aren't very nice people. But it's important that you be fair and give equal access to a story. If you're holding a press conference or issuing a statement, don't leave someone out of the announcement because you don't like them. Be professional and do your job.
Disclose, disclose, disclose! Disclose who you represent and what the organization's interest are. Don't be manipulative or less than transparent on this. Again… people will find out and you will damage your reputation.
Let the media do its job. Don't undercut or sabotage a story.
What do you think? I know there are tips you'd add to this list and I know you have some examples. Let's hear them!