As a social media strategist or manager, it doesn't take deep institutional memory of controversy or even a particularly sensitive ear to be a decent human being with some common sense.
Yet, here we are with another case study of common sense in short supply:
Vanderbilt University's football twitter account has been hyping the 2015 season and today tweeted the above "promo." Even if the team had a squeaky clean record, the language is cringe-inducing. The volume of the conversation on ending sexual violence on college campuses has increased nationwide and schools, departments, administrators and communication teams have to be listening.
However, Vanderbilt Football doesn't have a squeaky clean record. Two of its football players were convicted of rape in January of this year.
So when the promo tweet went out, the reaction from social media was swift.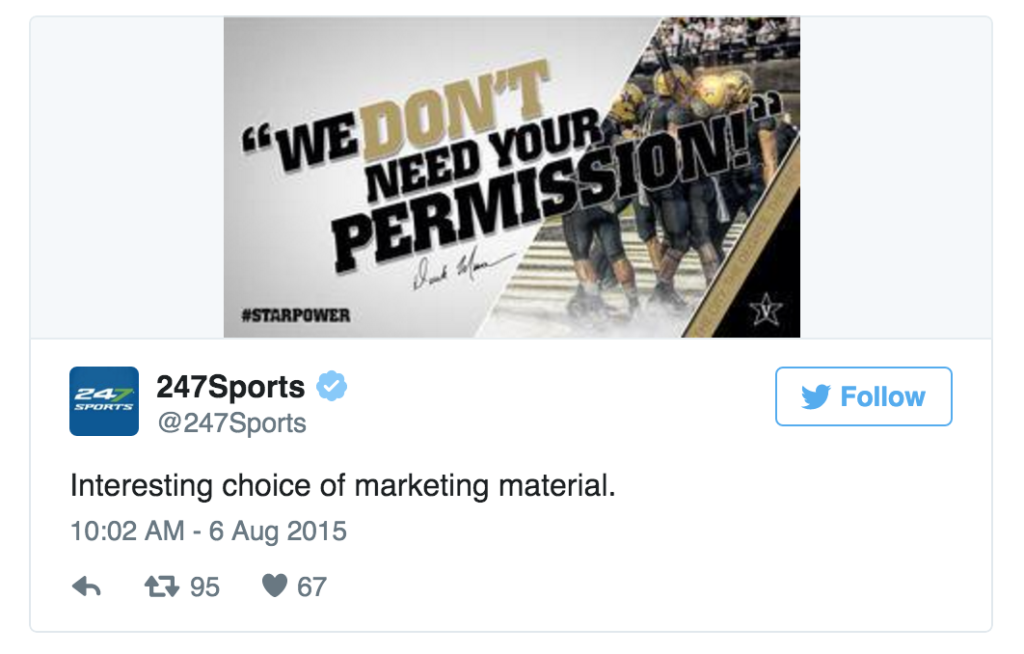 today, in you should think before you post, by vanderbilt football. http://t.co/2llQ2WGYjI pic.twitter.com/Df0ye34JSe

— kelly cohen (@politiCOHEN_) August 6, 2015
 

Vandy, you're supposed to be smarter than this. pic.twitter.com/NhGljnbrgY

— Cecil Hurt (@CecilHurt) August 6, 2015

Three minutes later it was deleted. Then the standard apology.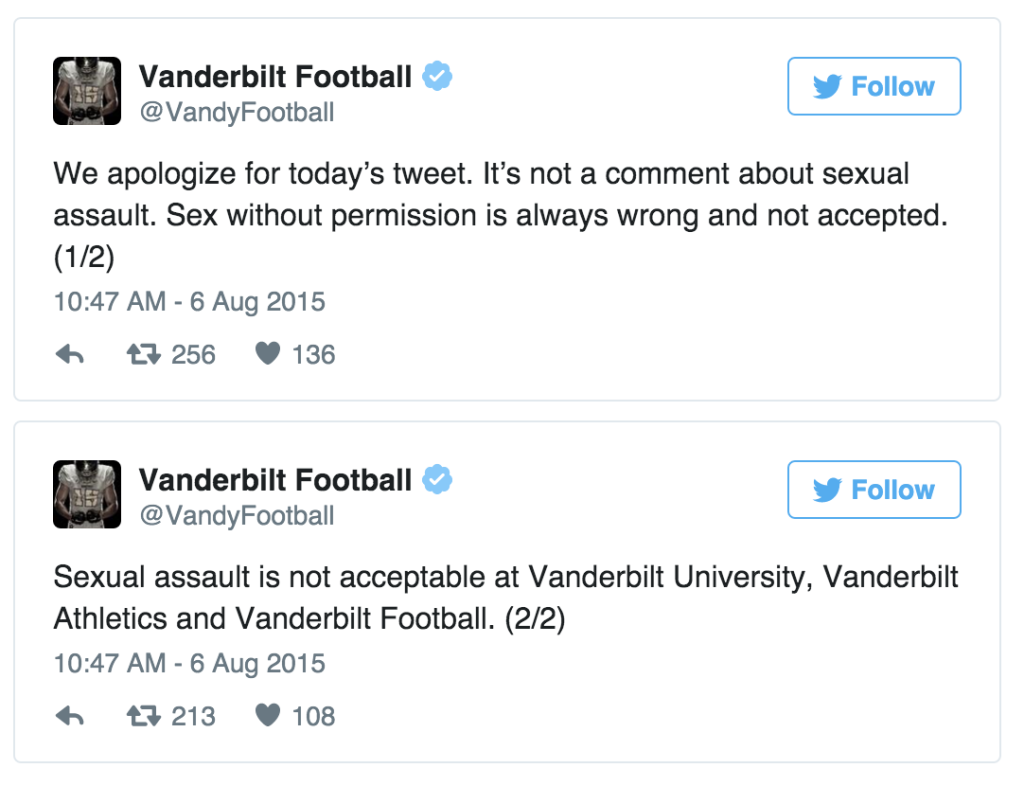 Well, I think we all assumed you didn't mean it to be about sexual assault…
Why do organizations of all shapes and sizes seem to not be able to see past the end of their noses and make mistakes like this?
My theory? No one is empowered to speak up and say, "that's a bad idea." Groupthink is a powerful force and if an individual feels like they're in the minority, it can be hard to go against the flow and disrupt the perceived cohesiveness of the group.
Organizations have to foster a culture where the discussion about content includes asking and answering to, "what's the worst that could happen?"
What does that take?
Creating a team that's diverse and brings a variety of perspectives to the table. You can imagine a locker room talk scenario in the Vanderbilt social media team where this idea came up. As football "insiders," they knew what they meant and didn't have to explain it to each other. (Honestly, I'm not sure what they meant in a football context.)
Building time into the content approval process to think it through and consider the worst case scenario. I've been part of many teams where you're moving so fast that it's hard to find time to stop and think and it's easy to make mistakes. That's dangerous.
Leadership that's committed to all of the above.
And, of course, a society that doesn't condone and tolerate rape culture would be great, too.