The 2014 Winter Olympics in Sochi, Russia are in full swing. I must admit that I haven't been watching much, just keeping up on the periphery. However, this week's linky love best of posts seem to have naturally gravitated toward sport this week on their own with the Olympics, college football signing day and a high-profile NFL potential draftee "coming out." Even if the topic is sports, the ideas are bigger.

Whether you chat about sports or not, I think most of you will find something that piques your interest. You can learn more info about these "linky loves" and the background on the students' assignment here.
The Branding of the Olympics (Grantland) – The Olympics are a big, expensive enterprise. This article takes a look at the history and the machinery behind making the Games a success.
Five questions for Michael Sam's publicist (PRWeek US) – NFL draftee Michael Sam "came out" this week as gay. While absolutely a personal issue, this is clearly an issue that requires some personal PR. Athletes are brands in an of themselves, and Sam got help to manage the announcement and the media. Want to know how that works? This is a great article.
Retired NFL Receiver Destroys Argument Against Gay Players (Huffington Post) – One of the arguments (apparently) of not having a member of the NFL team who is a publicly gay man is that he would cause a distraction. Retired linebacker Donte Stallworth tweeted a series of the smartest 140-character missives about this topic that I have seen. Someone give this man a crisis comm job in a sports comm agency. Seriously.
Besides, who is naive enough to think there aren't plenty of non-public gay men in the NFL now. (Bonus, I got a little @-reply from Mr. Stallworth, which I thought was pretty neat.)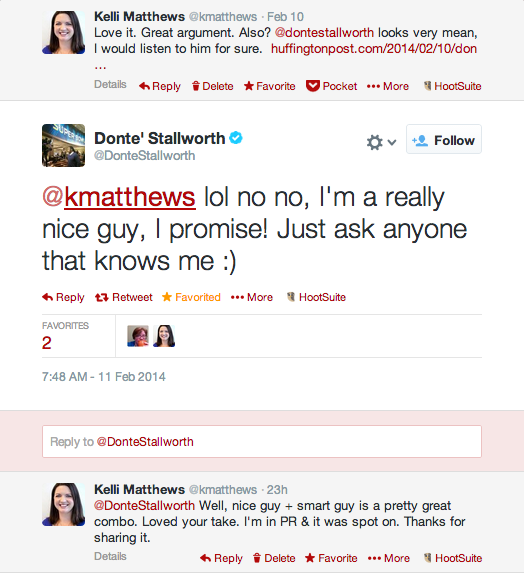 Pinterest board 2014 National Signing Day (Pinterest)  – Final sports-related link is less a post and more a tactic for sports PR work. Pinterest isn't just for mason jar crafts and wedding planning, right?
Too Many Sorry Excuses for Apology (NYTimes.com) – The apology is oft-used and oft-abused in crisis communications. The article points to the apology from Reed Hastings, Netflix CEO, from a couple of years ago as a good example. I think his apology and the delivery mechanism were awful. I can see the source's point, but I disagree. So what makes a "good" apology?
Forbes' 30 Under 30 Media list (Forbes) – The list defines media more broadly than journalism, to be sure. But Stephanie Yang at HuffPo says that's shifted over the last three years of this list. This year's edition has fewer editors, producers and more entrepreneurs… so is it truly a view of journalism's future or a reflection of the current obsession with start-up culture?
Where Does Social Media Belong? (Inside PR) – This post makes a good case for the answer being "PR." I tend to agree, though social media can't be in a silo. I tweeted this article a few days ago and one of the people who replied to me pointed out that there were lots of great points and counterpoints in the comments, so I'd encourage you to check those out.
Hope these inspire big thoughts… Zee (my almost-2-year-old) has been pondering ponderous things as you can see in the pictures.