Kelli's Note: Jillian was one of 33 students who went with Instructor Courtney Munther and me to San Francisco in early December. I was impressed by her preparedness, smart questions and overall professionalism during the trip. In fact, I've been pretty impressed with all my interactions with Jillian. Man, we have great students! I'm happy to share her five takeaways here. 
***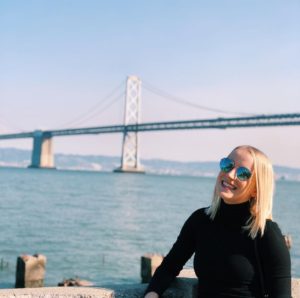 A few weeks ago, I was lucky to have the opportunity to travel to San Francisco with fellow UO students to tour PR agencies and communications branches of companies. I left inspired, starry-eyed, and a tad intimidated. But most of all, I left with some key advice:
1. Opportunity only knocks once.
When an opportunity presents itself, take it. You should try everything once. This will help you become versed in numerous disciplines. This attitude will not only help you at work, but in life.
2. Not every question has an answer.
When a supervisor asks you to research something, ask them how long they want you to spend and what they expect you to find. If you have spent an hour looking for something with no success, it may not be there to find. Ask for help, but accept defeat when necessary.
3. ESP
Eye contact

Smiling/nodding

Paraphrasing a question when you answer
(These are key qualities to focus on in interviews to seem more personable.)
4. Comparison is the thief of joy.
Don't compare yourself to others. At your age, no one really knows what they're doing. Anyone can portray themselves differently from who they really are. You never know someone else's truth.
5. Never burn a bridge.
It's a small world. You never know who from your past could connect you to your next job.
Jillian Niedermeyer is a University of Oregon junior majoring in public relations and media studies. She is originally from Portland. She is currently a member of the PRSSA Bateman Competition team, working for Allen Hall Public Relations as an account executive and trying to catch up on much needed sleep. You can find her on LinkedIn.