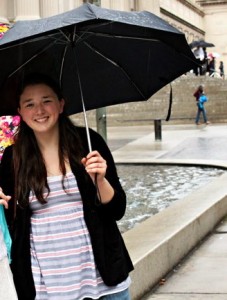 This post is from Paige Landsem, the firm director of
Allen Hall Public Relations
, the student-run PR firm in the School of Journalism and Communication at the University of Oregon. Paige is responding to an editorial that ran in the Oregon Daily Emerald titled, "
Bowers: Advertising, public relations need to leave the School of Journalism and Communication.
" You can connect with Paige on Twitter at
@plandsem
.   ***
Dear Jonathan,
As the Firm Director of the School of Journalism and Communication's student-run public relations firm, Allen Hall PR, I wanted to respond to your editorial in the Daily Emerald from January 9 regarding your thoughts on how the public relations and advertising majors do not belong in the School of Journalism and Communication.
While I respect your opinion (you're not the first person I've encountered who found public relations and advertising an odd fit for a journalism school), and I can't speak for advertising, I ask that you take time to understand the role of effective, honest public relations before denouncing it as unworthy of a school for critical thinkers.
In my experience, public relations and editorial journalism can have a symbiotic relationship. Last summer, I interned in the communications department at Sports Illustrated, a publication that has long been recognized as a leader in sports journalism. Every day, I attended an editorial meeting with the staff of SI.com. I wasn't producing any of the content, but was responsible for identifying stories that could be well-positioned for social media engagement. SI's writers were responsible for crafting the stories; SI's public relations team helped make sure the right eyeballs found those stories, whether that was through news coverage in a major daily paper or through a tweet that sparked discussion among fans.
The role of a PR professional is not limited to media relations, however. The critical thinking skills we learn in our journalism classes help us understand the clients we work for and the customers (or donors or volunteers) they hope to reach. We provide counsel on how to best manage those relationships. When one of our Allen Hall PR clients came to us last year, hoping to increase student involvement with their organization, our team researched, planned and executed an event that not only allowed the client to meet and exceed their goals, but gave UO students an opportunity to express themselves through using sidewalk chalk to beautify the campus quad for an afternoon.
You said you "see the value of advertising and public relations in general." If that is true, why create a turf war between the J-school's various majors? The school is equipping all of us with the skills we need to make an impact through communication – whether we go on to be news reporters, social media managers or creative directors.
Respectfully,
Paige Landsem
Firm Director, Allen Hall Public Relations
Feature photo by Kylie Keppler.
You can see other responses to Bowers' editorial here and here.