More than two years ago, in June, 2013, I started getting up early to work on a writing project. To be accountable, I would post a little quote or tidbit on Facebook to let my friend and writing coach know I was up when I said I would be (at my laptop by 6 am). The writing project is no more, but the daily posts continue.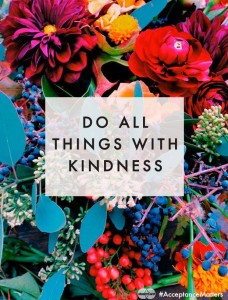 I'm not what I would call "self-disciplined," but this habit has stuck, not just for me but lots of you.
Anytime I think I'm going to stop — and there have been times — someone will send me an email or leave a comment on the post with something like, "are you in my head today? I totally needed this!" or just a "thank you for posting these. I look forward to them every morning."
I choose the mantra every morning based on what resonates with me each day. I don't save them or schedule in advance. Some mornings it's easy to find a little saying that speaks to me and helps me start my day with a better perspective — other mornings it's hard and it can take 20 or 30 minutes to find the right one.
What I've learned from 2+ years of sharing:
Consistency is important. I don't post on weekends and I don't post when I'm legitimately on vacation unless I feel like it. Otherwise, I try to post before 7 a.m. I never forget. It's habit.
People are people are people. My insecurities, stresses, anxieties and issues are the same as everyone else's. A little solidarity and "you're not in this alone" goes a long way.
My personal values have crystalized. I see a few themes when I look at the 400+ quips, quotes and illustrations I've shared: gratitude, kindness, generosity, empathy, self-care (breathing, taking time for yourself) and encouragement. Turns out, those are all pretty important to me and I keep coming back to them over and over.
Authenticity is important. This isn't like-bait or some sort of self-promotion thing, and choosing the mantra each morning is about me and where I am in that moment. It's not always very deep or philosophical, but it's authentic.