LinkedIn is such a valuable tool for any job seeker, but for undergrads looking for informational interviews, networking connections or to research a potential company or interviewer, it really can't be beat.
But using it well (and not annoying your connections) takes a little know how and some LinkedIn etiquette. I think no where is this more true that in asking for introductions.
LinkedIn allows you to reach out to people directly to make a connection (I always recommend adding a personal message about why you want to connect). However, using the "Get Introduced" feature, can help facilitate a connection and give you an edge.
So how does it work?
Start by finding someone you want to make a connection with. You can do this is many ways, but my two favorite (and most basic) are to a) search the connections of one of your contacts. If you're connected to me, you have access to my 1500+ connections. You can sort by city (say you want to move to Los Angeles) or by company or a few other filters or b) search LinkedIn directly by name or company.
Look for second degree connections. That means just one person exists between you and them.
Recently, I did a company search for Waggener Edstrom Worldwide. A lot of our grads work at WaggEd and it's the largest PR firm in the northwest. In doing that search, I found an account director to whom I had a second degree connection. I found her profile interesting because we have so many students with an interest in event planning — and that's what she does for WaggEd clients. Neat.
So say I want to get connected to Megan. Here are the steps to follow:
1. Click on the arrow next to "Send InMail" to get the drop down options. The first says "Get introduced." Choose that option.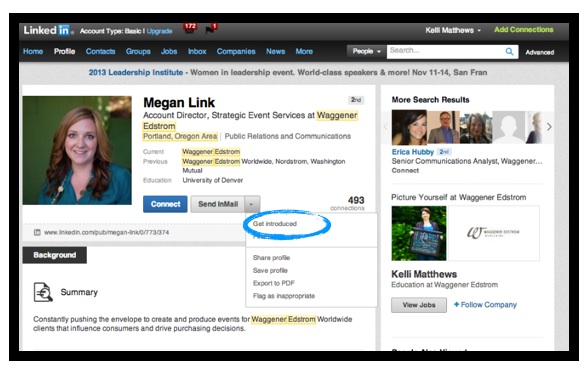 2. The next screen will show you all the people who you and the desired contact have in common. Turns out Megan and I have several mutual connections. Choose the one that you think would be most willing to "put in a good word" for you. I chose my friend, Erica, also an account director at WaggEd. She and I did our undergrad work together in the SOJC and I know she'd be willing to facilitate this connection for me.
I started with a note to Erica about why I wanted to connect with Megan.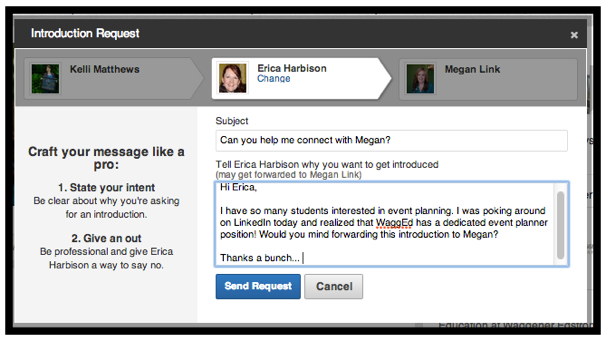 3. The final part is the most important. To make it easy breezy for Erica to forward my connection request with her own note, I finish the request with a note directly to Megan. Consider a mini cover letter. Why do you want to be introduced?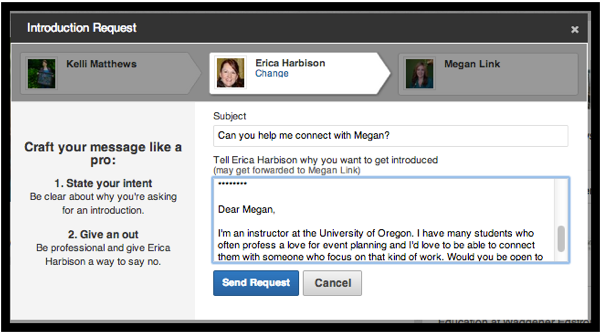 That's it! Take a read through, do a final edit and hit "Send Request."
Erica will get a notice in her inbox that I've requested an introduction with the option to forward or decline.
Have you used this feature of LinkedIn before? Any tips beyond what I've offered here?