This post can also be found at the Lunar Logic blog. Lunar Logic is a web development firm in Eugene, Oregon. I'm working on a series of posts for my friends there and this it the first.
***
If you've been pondering a social media strategy, it's likely you've heard the advice to "listen first."
Lots of super smart people have talked about how to listen and monitor with blog post upon post that provides reviews of tools and links to resources.
In fact, I'll share some of my favorites with you.
What you don't find written about much is what you should be listening for. Maybe it's intuitive to some, but in my experience, once you set up Google Alerts for your name and your business name, the "what else?" question looms large.
It's not complicated, but you need to step outside your "insider" role and think about your organization from your customer/donor/volunteer/key audience's perspective.
As part of my Social Media Boot Camp curriculum, I developed this graphic for listening & monitoring.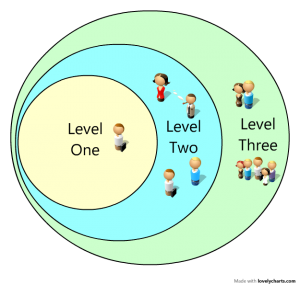 I'll take an aside here to say that listening and monitoring are not the same thing – or at least they don't have the same purpose. Listening helps you understand your audience, your community, your market better… almost like eavesdropping. Is a passive activity and you is vital to understanding how your audience/community/market behaves and your organization's role in it.
Monitoring is more directed. You're monitoring for the purpose of participating and responding. It's active and action-oriented. They can be done simultaneously, so you'll often see them together.
Back to the "what else?" question. I break it down like this:
Level One
Business name
Product names
Key leadership & executives
Key competitors
Level Two
Key industry terms & phrases (news, information, trends)
"Point of need" questions (what do people ask that your business/product/service can "answer")
Influencers
Level Three
Related topics, terms, trends to your organization's core products services. Think about the lifestyle of your audiences. (ex: what else are yoga enthusiasts interested in? how about small business owners?)
The specifics will depend on your organization and your goals, but in general, you need to be listening and monitoring in all three levels. This schema is also useful for expanding your listening and monitoring as you learn more about your community ("That's a level 3.").
If you're creating content (blogging, tweeting or managing a Facebook page for example), you'll find listening and monitoring across all three levels gives you lots of great input to produce great output. Bonus!
What would you add? Anything that you've found works really well for listening & monitoring?