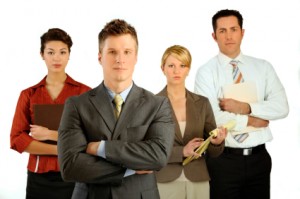 The PR major in the SOJC is a professionally-focused one. Most students who go into PR understand the importance of perceptions. Or at least they should. And, naturally, our students are concerned with professionalism.
Lately, however, I'm beginning to think some are too concerned. Or their emphasis is misplaced. I'm not sure which. But I think it's worth exploring.
Maybe we'll start with what I think professionalism is not:
About (just) what you're wearing. Your appearance is important, don't get me wrong. It affects that way you feel about yourself and certainly influences first impressions, but style without substance quickly fades.
Rigid or doctrinaire. I hear students admonish each other for not being professional or gossip behind someone's back about some terrible unprofessional misdeed (first of all, judge not, lest ye be judged…). It's as if professionalism is the new religion for students.
Lack of personalization. Where are YOU in this battle for superior professionalism? Scrubbing your digital footprint or even your interpersonal interactions clean from anything that smacks of (God, forbid!) being a 20-something is boring. You're not a hermetically-sealed-stepford-account-executive-pre-professional just waiting for your assignment. For crying out loud… BE YOURSELF.
Ultimately, professionalism is about the work, it's about the way you interact with your peers and colleagues. It's about being gracious and empathetic. What professionalism is:
Being accountable. Doing what you say you'll do, having open lines of communication, telling your supervisor or client that you don't understand or you're unclear or you're in over your head. All of that is part of being accountable. I often see students try to "fake it" and not acknowledge their limitations.
Putting the work first. Professionalism is about your professional work. That comes first… before your personal brand. You won't have a very solid "brand," by the way, if you can't do good work.
Focused on building relationships by celebrating others successes, having empathy. Being a good person, someone who people enjoy working with is also part of the equation. Professionalism means celebrating your team and giving credit where credit is due. It also means having empathy – not for just clients and colleagues, but any "stakeholder." Relationships are paramount and the ability to build and maintain strong ones takes a real professional.
What do you think professionalism means?